Today's Monday Motivation is a reminder to change or clean your HVAC filter.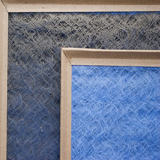 OK, OK, I know. Boring stuff. But, important stuff.
This filter traps a lot of the junk that floats around in the air in your home. If it gets too dirty, it keeps the heating and air-conditioning system from running efficiently. It's really an easy job. The hardest part is remembering to change it out or clean it. An added bonus is that the air in your home will be cleaner and that means less dusting. Yay!
1. Find where your filter is. It is sometimes attached to the air handler itself but sometimes it is behind a vent cover in the wall. I have to unscrew two little screws on a vent panel to access mine.
2. If you have a disposable filter, you'll need to replace it with a new one. Don't reuse a disposable filter. If you have a reusable one, take it outside and spray it with the garden hose and let it dry. Then replace it in exactly the same position you found it in.
I check my filter every month. I have a reusable one and I vacuum it clean every month and wash it outside every 3-4 months. Sometimes I also spray it with a little Lysol to disinfect it before placing it back into it's spot.
Today's Tip: If you use disposable filters, buy a bunch when they are on sale or when you have a coupon and then you'll be more likely to change them out when you actually have the replacement on hand.
*part of this post was originally published in October of 2009 - just keeping it real!
"Let the clean air blow the cobwebs from your body. Air is medicine."
Lillian Russell (1862-1922), quoted in Reader's Digest, March 1922