I'm not sure why, but I've ALWAYS wanted a church pew. Not a pew from the church I grew up in (because it was built in the 60's with bright red upholstered pews) but an antique pew from some little country church. Well, it finally happened. My hubby found one in our neighbor's front yard, near the road.
He went up to her house and knocked on the door. He asked her if she was getting rid of the pew and she said "yes" because her son had gotten her a real front porch bench as a gift. She actually made DH sit on her new bench with her to show how strong and sturdy it was.(I have to giggle when I think about that) When it arrived at our house it did not look like this. . .
It looked like this. . .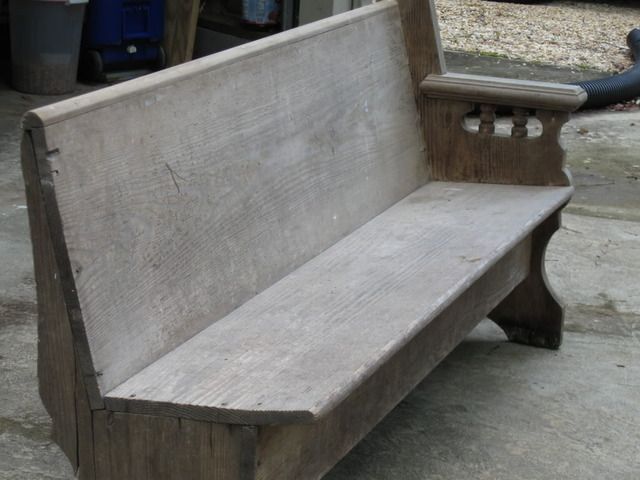 It had been sitting on her front porch for years, only partially sheltered from the weather. The kind, older neighbor explained that the pew had come from Lake Drummond Baptist Church many years ago when they replaced their pews. And, yes, it was almost 100 years old. Hallelujah! It fits perfectly on our front, screened porch after a major rejunivation.
First, I rubbed it carefully with fine grade steel wool. DH had to make a wide foot to go under one of the legs to keep it steady. (one of the sides had been attached to a wall) Then, I applied a coat of stain and then 2 coats or exterior poly to protect it from the weather.