I think most of us look at the beginning of a new year as an opportunity to do better.
Do a better job at taking care of our bodies, our jobs, and our homes.
Work on our relationships with our Lord, our spouses, our family, and our friends.
Learn new skills, new words, and new knowledge.
After the Christmas decorations were packed up I spent a bit of time on the computer looking for ideas for the new year. What new things would inspire me? I bookmarked a bunch of sites and thought I would share them with you. Let me know which ones you like the best.
I'm not the kind of person who usually says the "C" word - but I love this quote and this is how I want to live.
I would love to get a new Bible, but I'm so comfortable with my old one and I love reading the notes and dates I've added over the years. See the notes in the margins? (PS. . . this is not my Bible - I got the pic from Pinterest). I love the quote from C. Spurgeon that goes with the picture:
"A bible that's falling apart usually belongs to someone who isn't." -Charles Spurgeon
Ok, this is really silly - and probably a bit OCD - but it makes a difference. This site shows you how to
fold a plastic grocery bag
into a little triangle to save space. I take my own bags when I shop so I don't get too many of these, but I like to keep some handy in my kitchen and in my preschool classroom. I'm serious - it will change your life. It's folded the same way we used to fold notebook paper into a football shape and flick it over our finger goal posts when we were kids. Anybody ever do that? Anybody? I guess I'm dating myself.
I'm getting ready to use this idea in my kitchen and bathrooms. A simple and inexpensive tension rod can hold several spray bottles and make more room under the sink.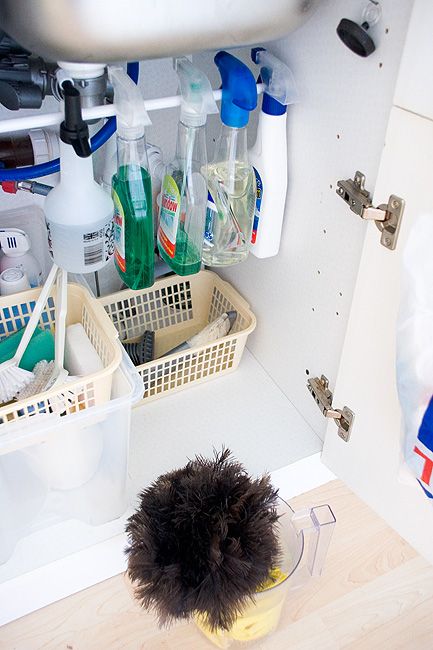 Money Saving Mom has created this free form to customize and print out for your daily to-do list. I like how she has a way to monitor her water consumption (see the little glasses midway down in the middle row?) Click on the link to see how she uses her
daily list
in her homemaking binder. This is the most manageable and practical list I have ever seen.
A new blog I'm reading "Our Simple Farm" has given me inspiration to grow more of our own food to eat. We're already raising chickens for eggs, growing a lot of veggies, and trying our hand at growing some fruit and dabbling in bee keeping. There is so much to learn!
The Healthy Home Economist has some great posts,
including this one
, about eating healthier.
Thanks
Pinterest
for all of your help and inspiration. You rock!
Scroll to Top